Team Erika Brown played Team Allison Pottinger in a best two-out-of-three format playoff series at the 2014 U.S. Olympic Team Trials for Curling on Nov. 15-16 in Fargo, N.D.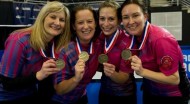 Team Brown won both games and Erika Brown, Debbie McCormick, Jessica Schultz and Ann Swisshelm became the first athletes nominated to the 2014 U.S. Olympic Team.
Erika Brown, from Madison, Wis., was the vice skip in the 1998 Olympics in Nagano, Japan. Debbie McCormick, from Rio, Wis., advanced to her fourth Olympics. Schultz, from Minneapolis, and Swisshelm, from Chicago, each earned their second Olympics berth.